◆◆◆
K-Gas Services

Offering Full Propane Services right to your door!
---
Reliable, Dependable & Safe Residential & Commercial Delivery
We offer Regular Routed or Will Call service to our bulk delivery customers. As a Regular Service customer we keep track of your usage, check your tank periodically, and deliver automatically. As a Will Call customer, we only deliver at your request. We do not charge extra for either of these services. However, we prefer our customers to be on a Regular Routed Schedule in order to maximize our efficiency and minimize our operating costs, which allows us to offer the best pricing possible. Another benefit to the Regular Service program is you won't have the added responsibility of checking your tank percentage and making arrangements for a delivery. Let us take care of that for you!
We also offer pilot relighting and regular system and safety and leak checks for our customers.
*If you are currently a Regular Service K-Gas customer, please keep us informed of any changes in usage. Our goal is to not let you run out of propane.
Pricing Per Gallon
You will find that our pricing is very competitive. Our price per gallon is the same delivered to customers with leased tanks or customer owned tanks.
Tanks for Purchase and Lease
We have tanks in stock for lease or to purchase for customers in our service areas. We currently lease tanks to property owners. Please call for current tank pricing and out of area tank sales.
Cylinder Refills
A qualified technician will be happy to refill your BBQ, forklift, auto and RV cylinders Monday through Friday, 8:00 am to 5:00 pm with plenty of room to turn around in our yard.
For our bulk delivery customers, we can fill your BBQ tanks during a scheduled delivery or you may have them filled in our Yard at your bulk delivery rate.
Parts Department
Our Parts Department offers a variety of propane fittings and accessories. We have qualified technicians available to assist you Monday through Friday, 8:00 am to 5:00 pm.
Payment Plans
We offer payment options to qualifying customers! Plans include budgeted payment options and automatic credit card payments. Please contact us to set one up today.
Add Service and that we have qualified technicians happy to help answer your questions and assist you with pilot relighting, leak checks, tank maintenance, requalifying and revalving of cylinders.
Emergency Service
We offer 24/7 Emergency service for our customers.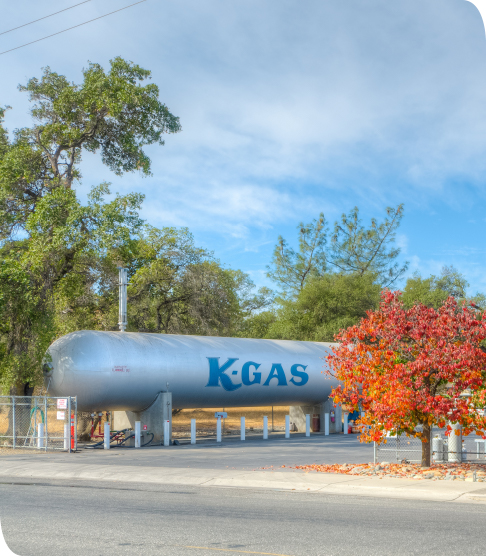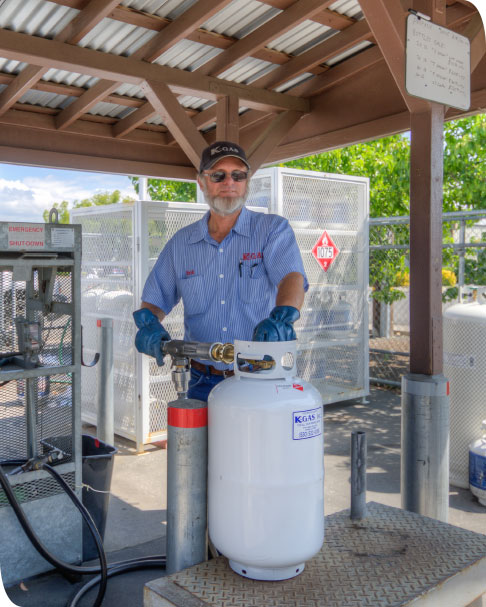 ---
"We have been with K-Gas for many years and have always received great customer service at a competitive price. Our driver has become like family to us!"
– George B.
◆◆◆